The internet and globalization generate an escalating need for translators. The US Bureau of Labor and Statistics study proves this, job projections for interpreters and translators between 2014 and 2024 will rise by more than 29%.
This is good news not only for US translators but also international translators as US companies hire freelance translators to remotely work from their country of origin.
It is worth noting that US agencies and other international companies not only hire for gigs (freelance jobs) but also contract based jobs (less frequent).
However, in this post, I will write about job boards that post mainly freelance jobs.
Job boards where you can work with a free account
Is with no doubts the number one address for translators/ linguists.

You need to create a full profile it will take a few hours but it is essential. Submit work samples ( if you do not have samples, do pro bono projects and use them as samples), upload a professional picture, choose your specialities, rates, language combinations and keep updating your availability in the ProZ calendar.

There are four ways to work in ProZ the first three require only a free account.
1- Invitations: the outsourcer will contact when interested in your profile and credentials. You need to be very responsive by email or/and skype as outsourcers contact many freelancers and in many occasions the job is urgent. As a matter of fact, the faster you answer the better.

2- Directly contact: the employer for the job opening they post. Sometimes, as a free user, you will have to wait for at least 12 hours before contacting the outsourcers.

3- Use the free directory blueboard in ProZ to contact agencies. To guarantee a better pay it is wise to apply for European and North American companies first. Thus, select agencies from these locations.

Navigate their website and use the form used for freelancers, if they don't have it, use the email address created for freelancers. Be sure that they translate in your language combination.

Please note that it is counterproductive to contact them via emails or contact forms designed for clients.

The paying method
4- Quoting. This method requires a paying membership in ProZ, plus for each quote, you will need to pay a small amount of money.

The cost of standard membership is $109 per year, its main benefits are:
Appearing first in the directory

Outsourcers will see your quotes first

Submit to members only jobs etc
You can check all the benefits here.

Even when you create a free account on ProZ you will receive a discount on translations tools such as SDL Trados (other special offers will be sent to you via email)

Has a valuable database of more than 7000 agencies and you can apply for most jobs with a free account. More than 280.000 users are registered on this website. Its user interface is friendly.

You can be invited by an outsourcer for a specific job but personally, all the invitation I received were from Proz.

The same marketing technique can be applied by browsing the outsourcers and filtering them by the languages and specialities they offer.
To be methodical and to keep track of the outsourcers you contacted a simple excel file will help to follow your progress and motivate you to keep applying for more agencies.

Master Membership (paid) offers access to master jobs, more functionalities, better visibility in Google and translatorscafé search results. The cost of membership is:
– 12 months $110.00 USD (€100.00)
– 6 months $70.00 USD (€65.00)
– 3 months $40.00 USD (€35.00)


Created in 2003. At first look, you will notice that its interface is quite old but that is not an issue. It runs smoothly with a database of more than 7700 translation agencies and 33000 registered translators. More than 350 glossaries and more than 40 dictionaries are available for free.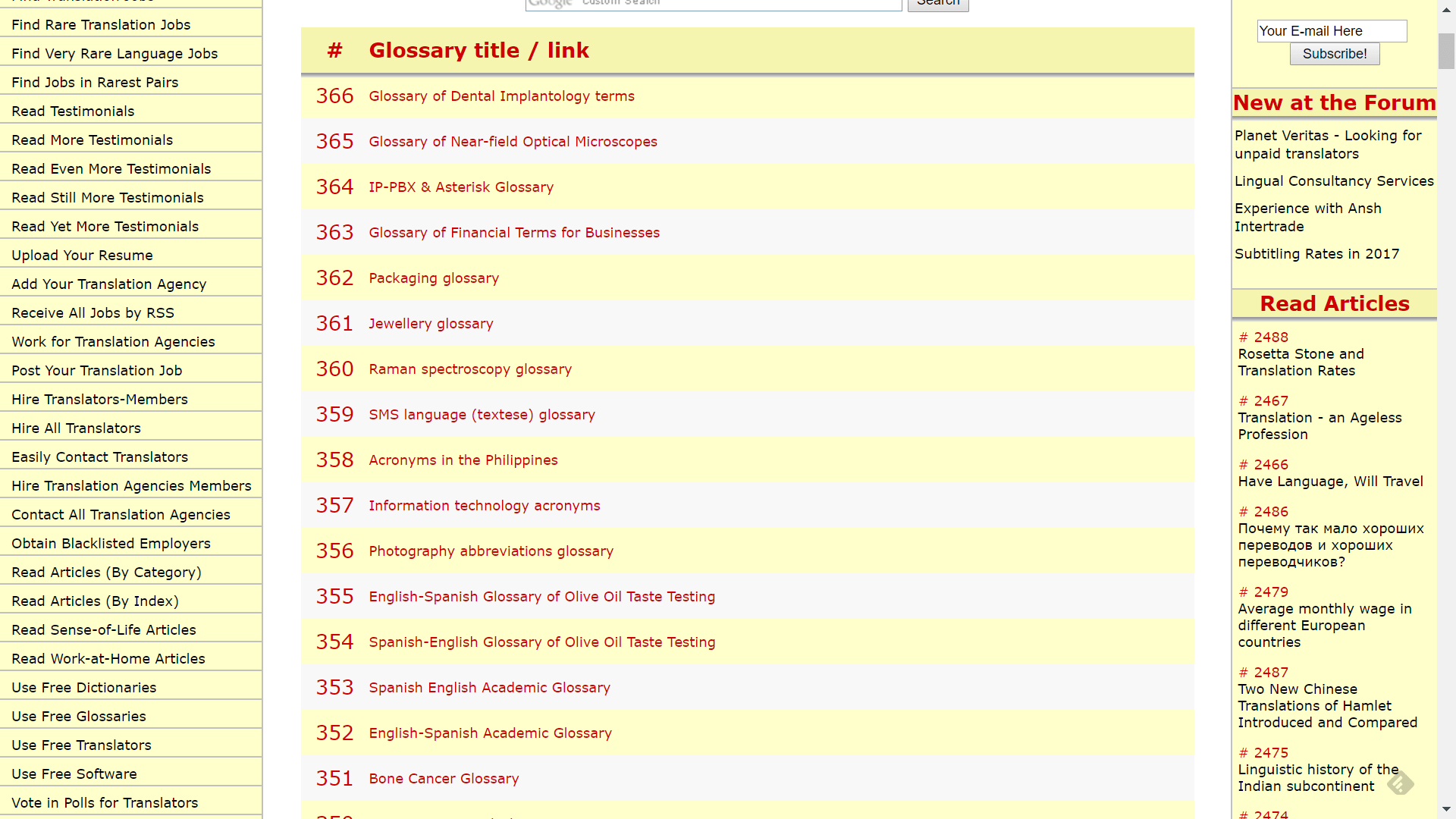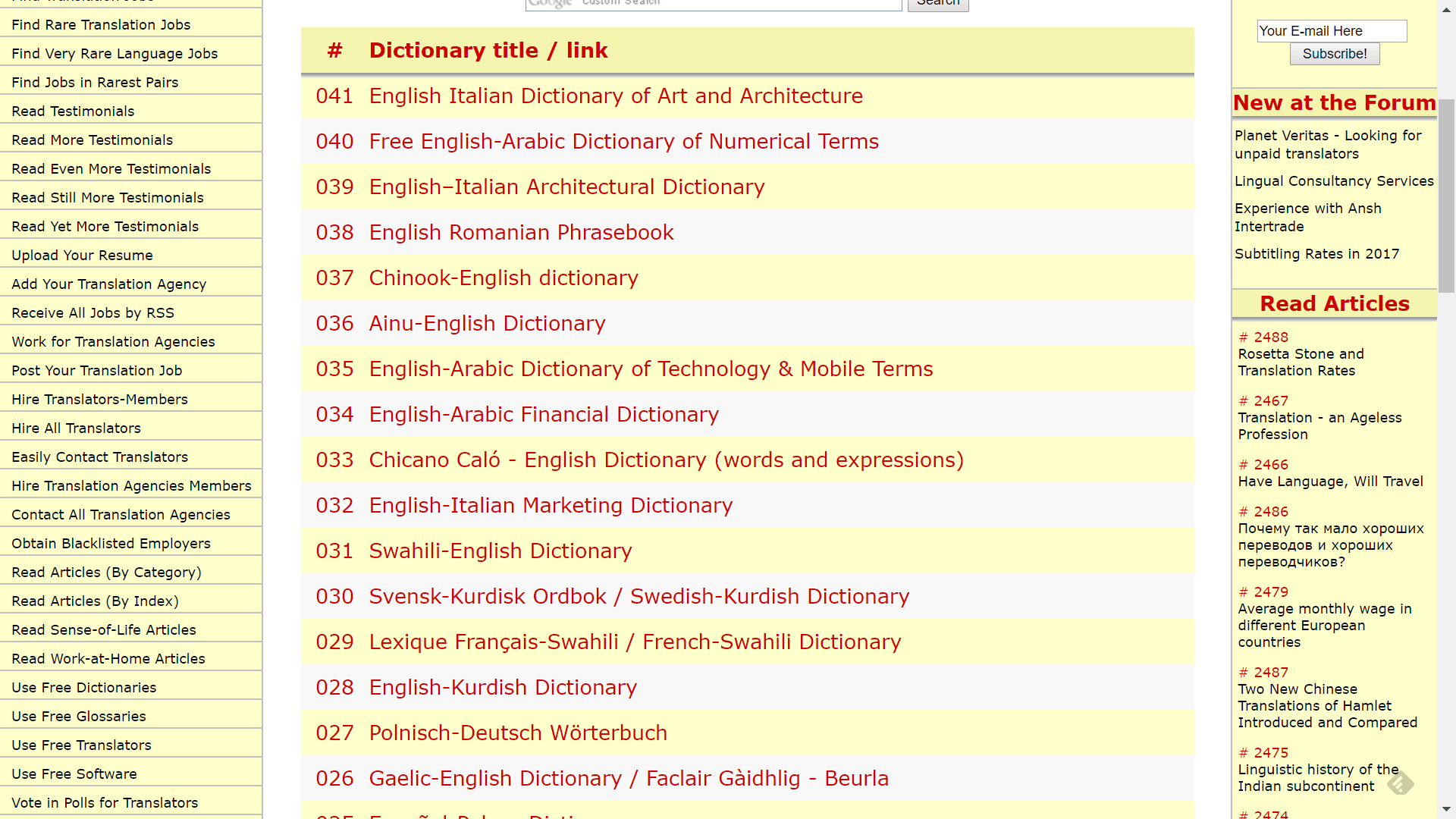 You can apply freely to jobs.
Paying members (96 EUR per year) will receive a list of top agencies, blacklisted agencies, free tips for translators, rotating profile advertising on the main page
and many other benefits.
The number one professional social network. Many translation jobs are available (freelance/ full-time/ part-time/ pro bono).

Below are different methods to get a job in LinkedIn:

1- Write the job title and choose the location then press search and apply

2- Create many job alerts for each skill you have e.g: linguist in language X and Y/ translator in language X and Y + specialties / subtitler in language X and Y / media monitor in language X / voice-over/ cultural expert/ copywriter…..

3- Connect with other translators and show your expertise by asking questions and replying to posts

4- Connect and be part of groups related to agencies you are interested in and be an active member

5- Connect with recruiters (may need a paying membership)

Creating an account in Linkedin builds your presence in the web and improves your visibility; when your name is Googled your Linkedin profile will appear as one of the first results.

Besides, in some translation agencies platform, you can use your profile in Linkedin as a resume.
The job board that offers

pay only

options is:



Is specialized in telecommuting, freelance, and part-time jobs. Flexjobs is itself full virtual all its staff work remotely. It is a top-rated website for careers.
With its thorough job description finding the right job freelance translation job will not need sending a huge amount of applications.

The cost of an account ranges from $14.95 a month to $49.95 a year.

Opportunities for international applicants are available in flexjobs.

Keep in mind that create a professional profile and adequate resume is a must. Generic cover letters and CV are useless. Each CV, cover letter, and application should be tailored for that specific job. Besides, the shorter the better as the outsourcers receive generally a lot of applications.

I personally advise you to start with an account in both ProZ and Translatorscafe. If you need a job urgently go ahead for Flexjobs